Eleyo drives $17,000 annual savings for La Mesa - Spring Valley Schools.

The challenge: offline payments lead to a labor-intensive invoicing process
La Mesa - Spring Valley Extended School Services (LMSV ESS) had a labor-intensive invoicing process. Each month, account techs would begin their manual progress by adding late payment fees to each past due account. Additionally, they had to print over 1,600 invoices and print and stuff over 1,100 envelopes. This process took four account techs a day and a half to complete every month.
At the time, LMSV's program management software for child care was not connected to an online registration system. As a result, payment processing was not able to be completed online and the responsibility fell the account techs. When LMSV reached out to their existing program management provider, the options to move towards online payments were too expensive.

Customer Profile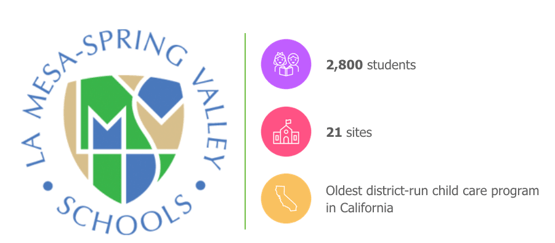 The solution: full program management software solution = time + money savings
LMSV had been using the same software for 11 years, but faced with the need to innovate their processes, LMSV ESS started looking elsewhere. Their goal was to find a program management software that could fully support online registration and payments. That is when LMSV found Eleyo. Eleyo supports all the components of LMSV's programs in one place: Online registration, attendance tracking, family portal, invoicing, and payments.
LMSV started using Eleyo in 2018. Since then, their ESS program has run invoicing electronically through the Eleyo platform. With late payment fees automated and payment processing connected to registration, staff no longer have to manually enter payment information. Thanks to Eleyo, it now takes one account tech less than an hour to run invoicing each month. As a result of using Eleyo's invoicing feature, LMSV saw fiscal savings totaling $17,000 at the end of their first year using Eleyo.
Additionally, Eleyo made life easier for LMSV families thanks to Eleyo's family portal which provides 24/7 access to their past payments, manages their current invoices, and allows them to register their children for LMSV's great programs.

Eleyo looks forward to partnering with LMSV and other prominent California districts to drive program and community engagement.
In the coming weeks we'll be posting more stories from our great customers like LMSV! Subscribe to keep up to date with the latest in before and after-school care!