Last week, we hosted Position Your Programs to Elevate Your Community — a panel discussion for community education and child care leaders. The discussion served as a platform for more than 100 districts from across 22 states to virtually gather and discuss their programs during COVID-19.
For over one hour, Jill Korsok from Orange Community Education (OH), Valerie Burke and Rachel Hicks from Edina Community Education (MN) and Mike Seppi of Parkway-Rockwood Community Education (MO) discussed their program's approach to community communications, staff engagement and forward-thinking operations.
"It's all about emphasizing that we're a partner for our community." — Valerie Burke, Edina Community Education.
Audience Insights: Focusing on the Future
During the panel discussion, we polled our audience to gain some insight into where their programs are currently in a variety of initiatives. Mainly, we focused on what was the largest priority for community ed and child care programs, and are they thinking more heavily on focusing on today or preparing for the future?
When asked "What is your largest priority today?" 55 percent of districts answered planning for summer and fall. Not surprisingly, when asked, "Is a majority of your time being spent focusing on today or planning for the future?" 63 percent of our audience answered planning for the future.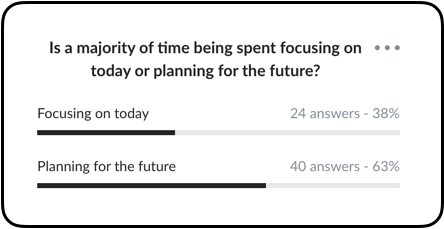 Looking Ahead
When asked what information our audience wanted to learn more about in the coming weeks, the 41 percent are curious about new projects and innovations. Following our discussion, it's clear that many programs around the country are now moving to a proactive mindset during COVID-19. While reacting to situational updates always takes high priority, districts are focusing on seizing the unorthodox opportunity presented to them.
"We've elected to spend a majority of our time focusing on our return and looking ahead." — Mike Seppi, Parkway-Rockwood Community Education.