Content and images contributed by Afterschool Alliance
We're reflecting on an inspiring (and sunny) 72 hours at the National AfterSchool Association 2023 conference (NAA23) in magical Orlando, Florida. The NAA's annual conference was packed with passion, professional development, and networking opportunities. As always, NAA attendees had many speakers, workshops, and resources at their fingertips.
These opportunities covered many topics, from building equity, empowering staff, or securing grants for program sustainability. Conversations were led by leaders from each corner of the country (and beyond!). This representation is fitting, provided the conference slogan was You. Us. All. Together We Shine.
The buzz at the Eleyo booth kept us busy, but we escaped the green glow diving in with our partners to explore all the learning opportunities NAA23 had. As part of our NAA23 recap, we're featuring one of these fantastic sessions with a message worth sharing.
Featured Session: #AfterschoolWorks: Crafting a Winning Afterschool Message

Hosted by: Tiyana Glenn and Maria Rizo, Afterschool Alliance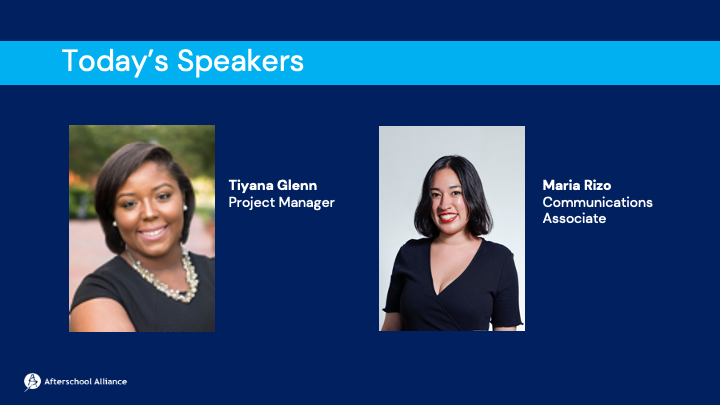 Afterschool Alliance is a non-profit organization that ensures that all youth have access to affordable, quality afterschool programs by engaging the public will to increase public and private investment in afterschool program initiatives at the national, state, and local levels. In their roles, Tiyana and Maria constantly connect with afterschool program leaders nationwide, helping empower them through communications, marketing, and partnership best practices.
Producing Messaging for All of Your Community Partners

Messaging matters.

Throughout the session, Tiyana and Maria combined insights from Afterschool Alliance's exclusive data with a thoughtful and holistic approach to creating messaging for each afterschool audience. The result was a tactical session leaving afterschool leaders with a template for crafting new messaging and a framework for measuring its efficacy. We outline their approach in five key points:
1. Meet the demand for amplified messaging
The demand for afterschool programs only continues to grow. As we strive to reach more families with more programming, invest time and energy into creating messaging for your programs that sticks.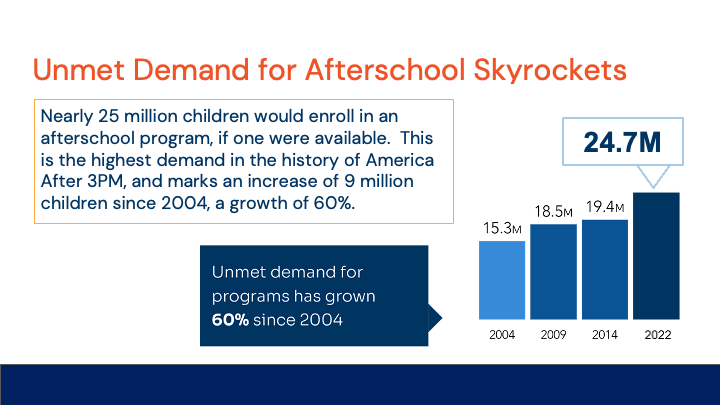 2. Understand each of your programs' audiences
Your afterschool programs have a variety of audiences that will often require a unique approach, tone, and call to action. These audiences and objectives could be trying to reach:
Parents to drive enrollment
District administrators for internal buy-in and facilities access
Community partners to help promote programming
Government agencies to secure funding
Regardless, any audience requires customized framing of your program's value proposition that is unique to the impact it will have on them.
3. Create a process for building your messaging
Tiyana and Maria unfold a simple yet impactful structure for building out your messaging.
Your messaging must go beyond the what of your programs, illuminating the why and subsidiary impacts.

For this exercise, consider the long-term benefits of your programs and their impact on students, families, and communities. What do students learn? How does it prepare them socially and emotionally? Are your programs and facilities providing safety and security? These value propositions are sturdy anchors of a great message.
This stage is also a great time to use program data to strengthen your storytelling. There is no end to how you can use data. Do participants in your program have higher graduation rates? Activity participation rates? Are parents giving your programs high ratings? Today is a great day to start tracking metrics so you can infuse this data into your messaging in the future.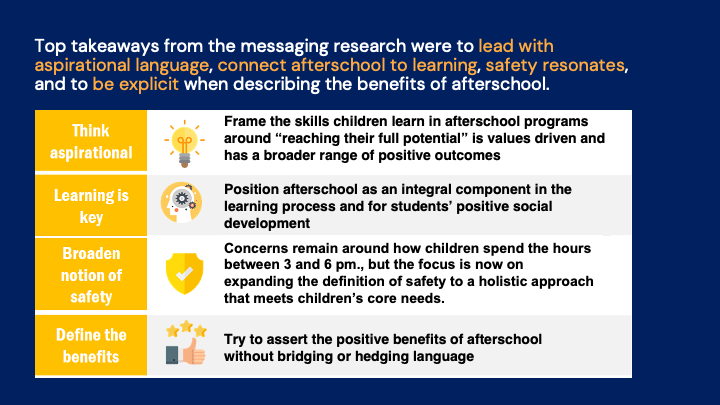 At this level of the messaging build, keeping your audiences in mind is essential. Your program has different marketable value propositions for unique audiences. For example, an individual parent may be motivated by a message of safety and social development. At the same time, a district partner might be driven by the long-term academic success of program participants. Make sure your messaging speaks to both audiences.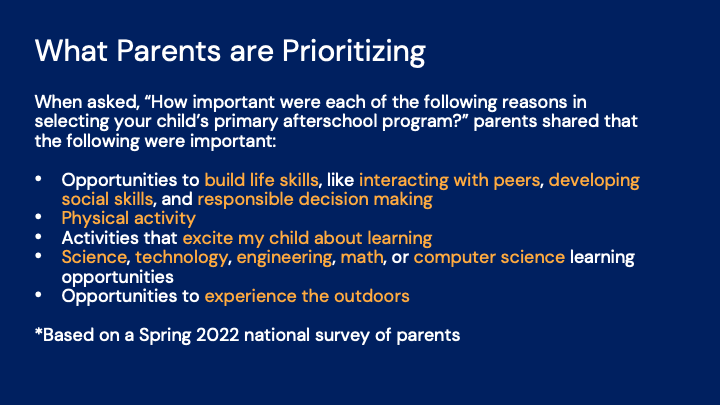 4. Establish brand recognition through consistent and visible messaging
No magical marketing campaign, email, or social post will sweep your entire audience off their feet. Districts build brand recognition over time. The sooner you can start solidifying that message across your partners and community, the better. Start using digital marketing and social platforms to build brand exposure and recognition by bringing your new messaging front and center.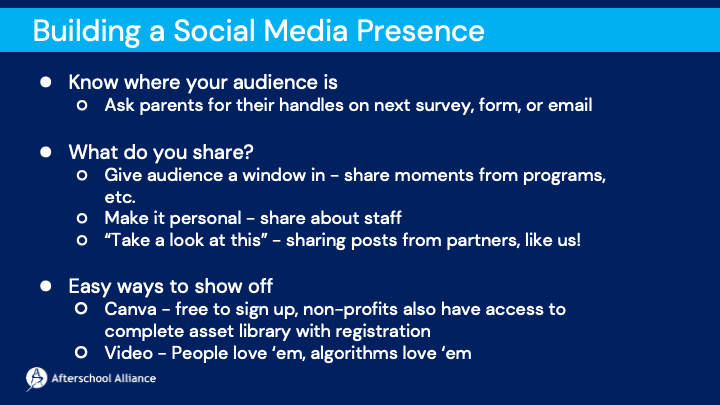 5. Analyze the numbers behind the words
Measuring the impact of messaging is more complex than tracking enrollments or attendance, for example, but that does not mean optimizing is not essential. There are plenty of methods to learn about the impact your messaging is having on the community and how you can test new concepts to improve your outcomes.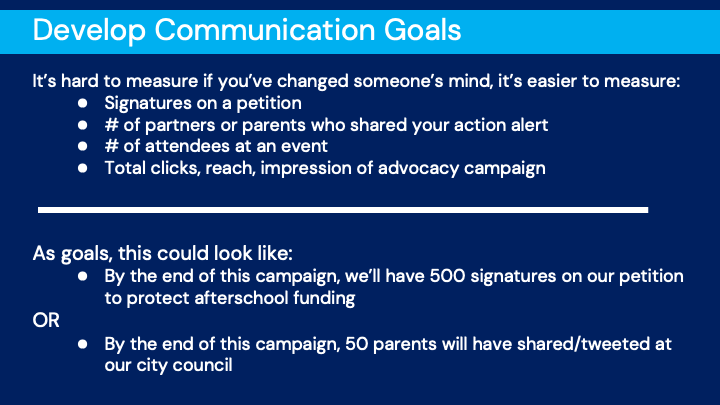 We'll see you soon!

We left this session, and NAA23, inspired to keep evolving, and Tiyana and Maria's session equipped us with the necessary tools to do so. We cannot wait to get back together next year in Dallas and check in on all the progress made. In the meantime, we hope to see you at this year's BOOST conference.