Earlier this year, we examined the impact of heightened parental expectations on child care and community education programs. We found, specifically, the 24/7 parent has changing expectations around program flexibility and accessibility in the areas of online registration and payments. These changes have been shaped by the world around them.
Watch: the Future of After School Program Management Webinar from February 2020
These expectations and trends have been accelerated over the past few months as a result of COVID-19. In the midst of the pandemic, we're continuing our study into how families in your community are yet again shifting their expectations in our new reality. Subsequently, these expectations continue placing pressure on your programs to adapt and meet your customers' changing needs. Here are five ways that COVID-19 has shifted parent expectations when it comes to technology:
Technical capability and prowess—The ongoing coronavirus pandemic has all but accelerated the use of technology in the home. Whether working, teaching or entertaining, life is being lived digitally. Parents are only increasing their technical prowess.
Families are relying on digital platforms for everything. Parents are using digital project management and communication tools to work from home. They're navigating online learning. And, when entertainment options outside the home are limited, they're leaning on technology. What's being done is being done digitally. From the Pew Research Center:
Online customer experiences—As e-commerce has grown and transformed substantially in the last months, companies are investing more in their online experience for families. According to details in the PYMNTS 2020 Remote Payments Study, 2020 has seen a nearly 35 percent year-over-year increase in consumers reporting online retail purchases. This increase in e-commerce activity is forcing companies to create better and more seamless online experiences for their customers.
Mobile activity—The same 2020 Remote Payments Study also observed a substantial increase in mobile activity, even when people are venturing out. Mobile devices have quickly become the most popular device consumers use for online shopping as 72% of consumers are using mobile devices to shop in stores.
Time—We've previously discussed that on average, parents have less than 32 minutes of free time per day. According to the American Psychological Association, many parents are struggling to not only keep their children occupied, but also to oversee schooling, fulfill remote work duties, grocery shop and perform all the other daily necessities of family life. The result is that this 32 minutes of free time now most likely resembles ten minutes—the ten minutes between when the kids are to bed and they're too exhausted themselves.
Communication—With more responsibilities and less time, consumers are expecting quick communication as part of their online experience. Hubspot, a developer and marketer software, has seen more companies increase their means of communication, including higher email sends or introducing chat features.
For child care and community education industries, quick communication is also necessary to properly respond to the ever-evolving pandemic situation. As situations develop, responses need to be shared, quickly.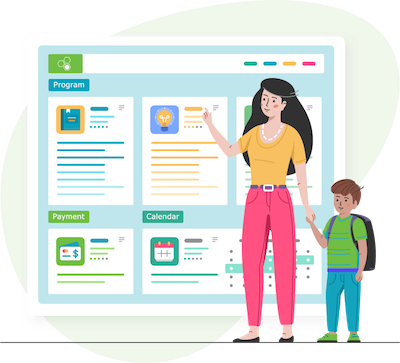 What This Means for Child Care and Enrichment Programs
Through online capability and reliability, parents are more tech savvy than ever before. With outside factors of decreased time leading to necessary increased e-commerce activity, industries are being put to the task of creating better digital experiences for customers. All this to say, parent expectations for how they use digital platforms is increasing by the day.
To address these expectations, companies are having to focus on challenges parents currently face. The time has come to not only meet parents online, but create a highly positive digital experience for customers. For child care and enrichment providers, working to improve a digital offering is important to keep family experience and community engagement high now and in the future.