Measuring how your before and after school program is performing when you're at your busiest is challenging. Unintentionally, measurement routinely falls to the bottom of the to-do lists during busy stretches to not impede progress and everyday tasks.
Balancing Urgency and Importance — Where Data Analysis Falls
The Time Management Matrix breaks all tasks into four quadrants organized by level of urgency and importance. Most tasks before and after school teams, and quite frankly all professional workers in general, face fall into Quadrant I, as they are both urgent and important.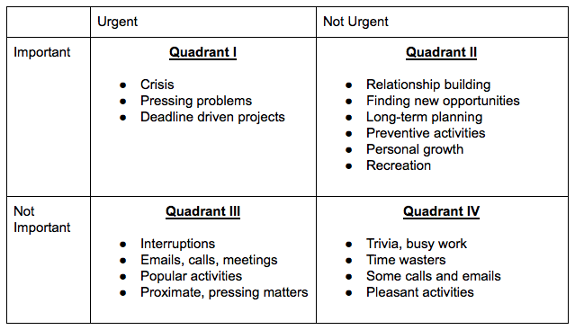 Because of the long list of urgent things before and after school teams need to accomplish, teams rarely have time for non-urgent things that are still extremely important, items that fall in Quadrant II, like measurement and analytics.
Although tasks like data analysis, review and planning don't necessarily require immediate attention, these tasks contribute significantly to your team's medium and long-term goals. It's important to maintain a proactive vs. reactive approach to measurement. When done proactively, the process of analysis is more thoughtful and strategic.
Simple, accurate reporting
Well, running reports does not have to be stressful or slow your team down. Eleyo helps before and after school teams efficiently and effectively achieve these Quadrant II tasks like measurement and analytics. Eleyo is a fully integrated software solution for after school programs with registration, payments, and attendance data all stored in the same place.

This accessible data, paired with an easy-to-use interface, makes pulling reports quick and stress-free for all team members.
Accessible data means the ability to measure. This empowers before and after school programs to optimize their operations, save money and ultimately increase revenue in just a short time after partnering with Eleyo.
Data on just about anything you can think of
Eleyo contains 100+ system reports, state-specific reports, and the ability to create custom reports based on data sets that are important to your program. Here are just a few ways to measure performance and efficiency while improving data and feedback gathering capabilities.
Child Care Attendance
Eleyo's Child Care Attendance app provides reporting on early arrivals, late-pick-ups, complete attendances, and parent signature logs. Site staff can view schedule changes, special health needs, and approved pick-up persons.  
Financial
Site staff can access financial reporting, including data on payments received, outstanding balances, refunds, and discounts. Administrative staff can sort all data based on budget code, season, and site.
Registration & Enrollment
Real-time administrative access to registrations received approved contracts and pending contracts. Admin can sort data based on site or program, age group, and season.
Family Surveys
Create and distribute program surveys for families, then use Eleyo to run reports on survey responses to analyze feedback.
Want to learn more about the 100+ system reports and custom reporting capabilities within Eleyo? Request your copy of Eleyo's 2021 Book of Reports, complete with 12(!) new system reports created this year.