There is no set solution for what child care schedules will look like this fall as many school scenarios are currently in play for states, counties, cities and districts across the country. Currently, select states are allowing or forming guidelines for school districts to reopen for in-person learning. However, in most cases, fully distant or hybrid models are being developed as primary or secondary options. One thing is for certain, we're seeing child care schedules we've never seen before.
Throughout our discussions with hundreds of school aged child care programs across the country, we've been so impressed with the options they are striving to safely provide their community. We wanted to share some of these new child care schedule concepts with you. Keep reading for details on three new schedule options gaining momentum nationwide that may be a safe and successful fit for your families.
Hybrid Learning Model

1. Hybrid A/B Scheduling: Offering care for before and after school for students conducting in-person learning that day.
A hybrid child care schedule can take many forms as programs can customize them to meet the needs of their community within certain parameters, but they are all based on the same fundamentals:
Group A: Monday / Wednesday Group B: Tuesday / Thursday, Rotate (Distant) Fridays
OR
Group A: Monday / Tuesday Group B: Wednesday / Thursday, Rotate (Distant) Fridays
OR
Group A: Monday / Tuesday Group B: Thursday / Friday, Rotate (Distant) Wednesdays
We are hard pressed to describe something so new as traditional, however this is what we are seeing as a baseline for most child care programs in a response to this learning model.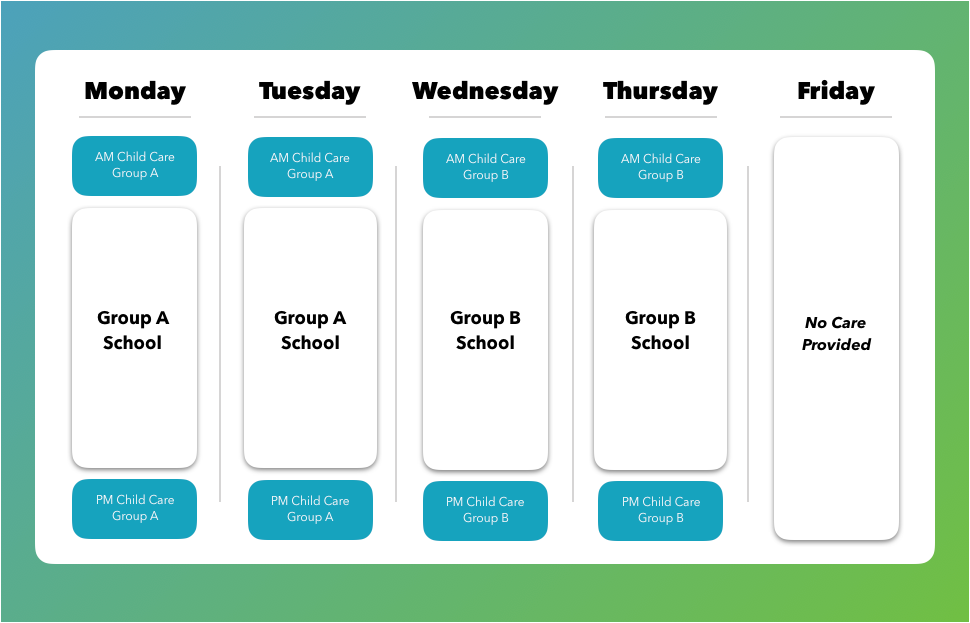 2. Hybrid A/B Scheduling: Providing full day care for the off group for any student of essential workers AND/OR an employee of the district AND/OR all students not in school that day.
A scenario also exists where (potentially through state mandate) districts provide off-day full day care for children of essential workers or employees/teachers of the district. In some instances, district employees can sign up for all five weekdays at rates a flat daily rate.
Offering full day care to children of essential workers provides tremendous value to your community members and allows them to focus more of their efforts on fighting the pandemic. By offering care to children of teachers so they can focus on their online curriculum, you give them more time to increase the value of your program.
If you have the space, and approval of your governing bodies, offering full-day options for all community members drives program value and helps your programs maintain sustainability throughout the school year.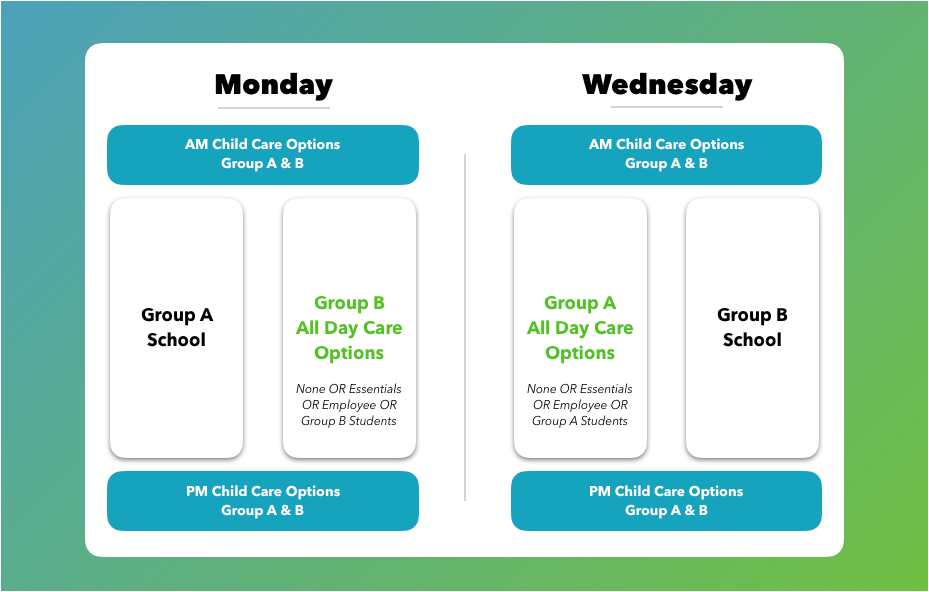 3. Digital Learning: Offering full day care with tutoring options
With many districts around the country starting the school year with fully online distance learning curriculums, child care providers may have an opportunity to offer full day care, supplemented with before and after care tutoring options. We're seeing multiple options to establish tutoring services - separated by grade or subject matter - set up in two-, four- or  six-week timeframes with one or two weekdays available. Structuring these courses in smaller sections takes into consideration the uncertain circumstances around you. Committing to long-term sessions might be more difficult for programs or parents.
Offering tutoring services can help programs in a variety of ways. First, it can help maintain program sustainability and staff retention. Second, it provides learning assistance for members of your community who simply do not have the bandwidth to help their kids learn throughout each day at home, and feel safe and comfortable sending their kids to school.
Communication: What, Where and How You Should be Updating Families
The task of establishing and executing these schedule types may seem daunting, but with thoughtful communication and the help of technology, you can build a strong, adaptable program.
Online messaging—Regardless of how your hybrid schedule looks, digital communication is more paramount than ever. Parents will likely head to registration pages first for updates to your program. Update messaging on any welcome, registration or landing pages from your program to accurately reflect updates to your scheduling. Any messaging about this fall, and what it means for parents, should be front-and-center. This may take an investment in new technologies but will save hours answering phone calls and emails from families with questions.
Direct communication—It's important that parents hear from your program directly. Whether through mass email communication or direct messaging, communicate all known details. FAQ formats can be helpful in these situations.
Programming details—Between all of your district and program updates, community members are receiving a lot of information. To help them out, stick to specific program details you need to communicate with your new child care model. Being specific and detailed helps cut through the clutter while providing all necessary information, including:
Updated terms and conditions or agreements
Enrollment questions
Registration options
Schedule types
Limitations (drop-in days, schedule change requests)
Think Outside the Box and Over Communicate
As your child care program schedule molds to the upcoming school year, it's important to lead with safety, creativity and follow through with communication. With what is under your control, think of how you can shift your offering to help your community during this difficult time. By doing so, you might discover ways to increase community engagement and shape future care offerings.
With whichever path your program follows, now is the time to over communicate. Be direct and repetitive with your messages and program details, and you'll find your community appreciates the transparency.