Data modernizes decision-making in the after school industry. Whether it's building and scaling your operation, effectively developing your program digitally, or how to market your program, it all ties back to leveraging data.
When conducting research for Eleyo's 2022 After School Report, we surveyed more than 100 districts around the country on many different aspects of their programs, including how leaders were leveraging data to make critical decisions. In our responses, we discovered that data touches every part of an after school program. 2022 is a significant year for programs to continue innovating operations through data-driven decision-making. Currently, we see programs using data to improve:
Precision marketing
Program scheduling
Staffing allocation
Program pricing and costs
Contact tracing
How After School Programs Empower Decision-Making
We asked after school leaders how they empowered their decision-making with data this year. Here's what we heard:

We looked at many different factors such as pricing and costs, staffing, enrollment, registration offerings, etc., during various COVID phases, as well as pre-COVID years to identify trends in these areas to make decisions regarding how best to move forward in the current school year. We continue to observe and be willing to modify as needed.
We utilized demographic and registration data from Eleyo to better target our audiences for programs, rather than blasting everything to everyone.
We utilized our data to split groups which helped us with contact tracing.
Reviewing profitability of programs to determine where we could make changes. Reviewing attendance analysis to determine staffing and other parameters.
Across the business, after school programs have established a strong connection between data and correctly hiring and staffing your program and increasing financial viability.
Popular Reports for Programs
We see after-school programs leveraging child care and enrichment data in various exciting ways within our platforms. Eleyo empowers districts' child care, enrichment, financial, and facilities system reporting capabilities. If you're an Eleyo customer, be sure you check out our Book of Reports, a complete resource guide to all things data within our platform.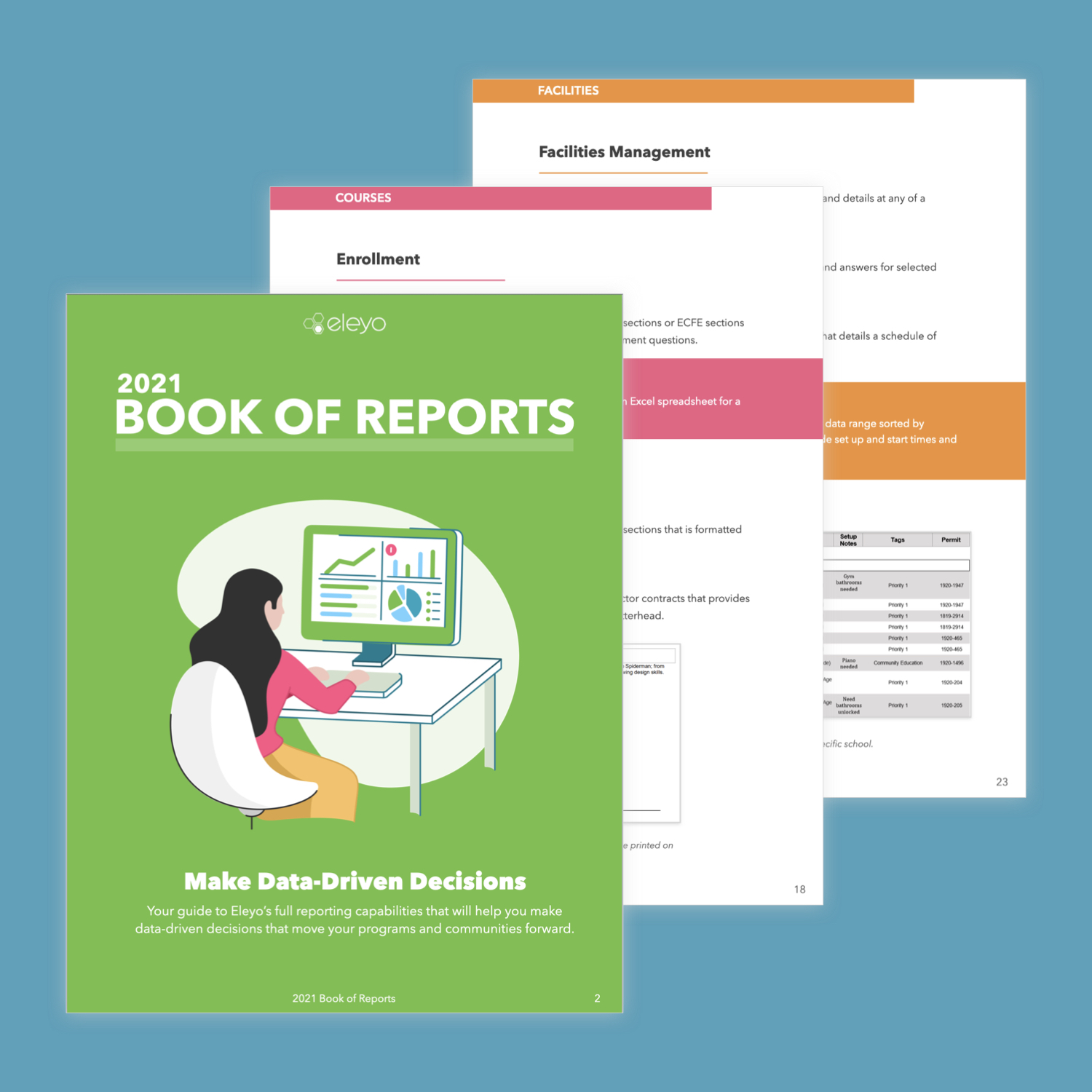 Not an Eleyo customer? No worries! There's plenty to learn about making data-driven decisions that can positively impact your program and team. Learn more with Eleyo's 2022 After School Report.